Lawn Maintenance and Landscape Services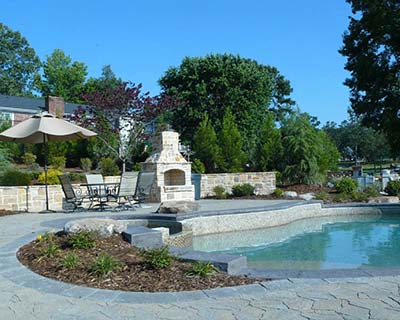 Bryan's Lawn Maintenance and Landscape, Inc. is a front-running company in the landscaping space and cater to clients in and around Irmo, SC. We are committed to providing clients high grade solutions that meet their needs and fit in perfectly into their budget.
We offer comprehensive services that are customized to your requirements and handle everything from landscape design and installation to planning and constructing different types of hardscaping features too. Take a look at the range of solutions we offer:
Landscape Design
Landscape design is an extremely important aspect of any landscaping project, big or small. We provide a wide range of landscape design and planning solutions to our clients. We make sure that every single feature or installation in the outdoor areas of your property is designed purposefully and with attention to detail. While our team focuses on ensuring that all of them are aesthetically designed, we also prioritize aspects such as functionality and durability. The features are designed to endure exposure to the elements well. We work closely with our clients to make sure that the designing work is completed in line with their specific requirements. Read more about Landscape Design >>
Landscape Installation
Once you have approved the designs and plans that our landscape designers provide, we start on the installation work. On our team are highly experienced technicians that have worked on hundreds of similar projects in the past. They can handle all types of simple and complex landscape installation projects based on the plans approved by you. We are committed to providing our clients value for money, which is why we make use of the best quality materials in our work. The objective is to ensure that every single installation on your property is durable, functional, and has an aesthetic appeal that complements the rest of the features in the outdoor areas of your home. Read more about Landscape Installation >>
Sprinklers & Irrigation
Regardless of the size of your landscape, if it has trees, grass, and other plantings, it is necessary to ensure that the right types of irrigation systems are installed in the landscaping. Our landscape designers will take into account the different types of plants and shrubs as well as trees that have been installed. They will also make sure that the lawn spaces are kept in view while planning the irrigation features. We provide high quality automatic sprinkler installations and will also include other features such as drip irrigation and soaker hoses in the irrigation plans that we provide. Since there are many different products on the market, we will provide you with detailed information which will help you make a good choice. Read more about Sprinklers & Irrigation >>
Landscape Maintenance
Creating beautiful outdoor spaces is a lot about making sure that the right kind of features and installations are chosen. It is also necessary to make sure that they are installed perfectly. Once all of these aspects are in place, it becomes important to maintain all of the features in the outdoor spaces with regularity. We provide high quality landscape maintenance solutions to our clients. The range of customized solutions that we offer will cover all the essential aspects and features in the outdoor areas of your home, and you will find that these are extremely cost-effective too. Read more about Landscape Maintenance >>
Hardscape Pavers
There are many features in a landscape that require the right kind of paving. Some of these include driveways, walkways, pathways, patios, decks as well as poolscapes, entryways and more. All of these surfaces are constantly exposed to the elements and will be used regularly, which is why it becomes necessary to choose the right kind of materials in their installation. We recommend the use of hardscape pavers,and these units are available in a variety of designs, styles, sizes, and shapes. Choose from interlocking concrete pavers of different colors and designs based on your specific requirements to create the kind of aesthetic you want in your outdoor spaces. Read more about Hardscape Pavers >>
Retaining Walls
Sometimes, it becomes necessary to install retaining walls in various areas of the landscape to provide a certain amount of support to the backfill. These walls can be constructed in areas where the landscape has been excavated to create space for various outdoor features such as a patio, deck, or even a driveway or walkway. Retaining walls are very different from standard boundary walls, and are specifically designed to provide support to the landscape or to prevent soil erosion. We use high grade concrete masonry blocks in the construction of retaining walls, and you can choose from different types of surface textures and styling. Read more about Retaining Walls >>
Outdoor Kitchens & BBQ's
An outdoor kitchen is a wonderful addition to any residential yard. It significantly increases the usability of the outdoor areas on the property and is a great way to extend the indoor living spaces of the home as well. We provide high quality outdoor kitchen and BBQ design and installation services to our clients. Our team handles every aspect of the job professionally and makes sure that your outdoor kitchen meets your lifestyle requirements. Our landscape designers are extremely creative and innovative in their approach and will make sure that every single feature in your outdoor kitchen is designed to be practical, functional, and aesthetically appealing. Read more about Outdoor Kitchens & BBQ's >>
Ponds & Waterfalls
Adding a water feature to a landscape is one of the best ways to beautify the space and create a very lively and fresh atmosphere in the outdoor areas. We understand the importance of designing unique waterfalls and ponds as part of the landscape design solutions that we provide our clients. We custom design these features and make sure their styling complements the aesthetics of various other structures and installations in the outer areas of your property. We also ensure that the best grade materials and workmanshipare usedin the construction of the water features that you have chosen for your landscaping. Read more about Ponds & Waterfalls >>
Landscape Carpentry
In addition to various masonry features in a landscape, many structuresare made of wood. Our team has the expertise to design and install different types of outdoor wooden structures on our clients' properties. We adopt a customized approach in this job and make sure that the custom woodwork structures that we design and plan blend in perfectly with various other elements in the landscaping. We also understand that these features are constantly exposed to the elements, which is why we make use of high-grade hardwood in the construction of elements such as arbors, pergolas, pavilions, and more. Read more about Landscape Carpentry >>
Brick & Stone Masonry
Every landscape requires different types of features made of different materials to lend it a very balanced appearance. This is where our custom brick and stone masonry design and installation services come into the picture. We use our creativity, skill, and knowledge to design and install beautiful stone and masonry elements such as retaining walls, boundary walls, columns, and pillars & various fire features and water features. We use high quality natural stone, brick as well as aggregates and concrete materials to create stunning, custom-designed masonry structures and decorative elements in landscapes. Read more about Brick & Stone Masonry >>
Landscape Lighting
Illumination is an extremely important aspect of any landscape design. When we are designing and planning outdoor spaces on our clients' properties, we also include exterior lighting in these plans. Several different features and fixtures can be installed in various areas to create a stunning display in the outdoor spaces after dark. We recommend the use of energy-efficient LED lights. They provide plenty of illumination and prove to be extremely cost effective in the long run. Our team uses techniques such as uplighting, down lighting, as well as ambient lighting and flood lighting in our work to create superb landscape lighting effects. Read more about Landscape Lighting >>
Excavation & Hauling
There are times when a landscape project involves excavation work. Sometimes, this could be minor while at other times it may involve extensive excavation. This could be requiredto create a leveled area in the landscape for the construction of various features. Some landscapes also have sloping land which needs to be excavated before any structures are installed there. We provide high-quality excavation and hauling solutions so that all these jobs are completed safely and efficiently. We use heavy duty excavators and loaders, which help us complete the job within the stipulated timeframe, and we make sure that the job is completed meticulously, to industry standards. Read more about Excavation & Hauling >>
We at Bryan's Lawn Maintenance and Landscape, Inc. are here to cater to all your landscaping requirements. We offer high quality services at very cost-effective pricing.