Design, Install and Maintain
A fantastic landscape for any home or business
Learn More

WE can partner with you to turn your vision into realty.
Bryan's Lawn Maintenance and Landscape, Inc., can design, install and maintain a fantastic landscape for any home or business. What began in 1987 with a push mower hauled around in the back of a Ford Mustang has evolved into a company employing nine full-time landscape professionals, five customized trucks, 10 high production lawn mowers, two heavy duty landscape tractors, two Dingo Digging systems and more than 80 specialized power tools. Using computer aided design and digital imaging, Bryan's can create realistic 3D views of a plan before work even begins.
We will do everything we can to make your project run smoother.
About Us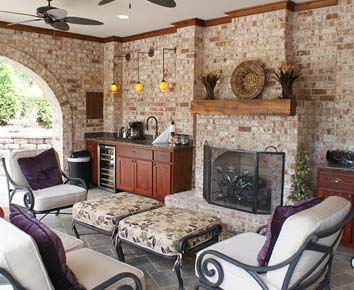 Bryan's believes in customer service, attention to detail and long term customer relationships. We have many clients that have been with us for over 10 years and some that we have followed from home to home as they move to create a new landscape for them.
Bryan's provides a full range of landscape and hardscape options and can take any project from design to installation to maintenance. We take great pride in our work and will always go the extra mile to please the customer.
Learn More
You can reach us by email or phone. We look forward to hearing from you.
Our Portfolio
We do what we do ike no one else does.
Whether maintaining or constructing, we
will use innovation and professionalism
to craft your unique landscape.
Let us do the work, so you can sit back
and enjoy your landscaped property.
We see the possibilities.